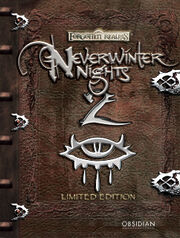 As you may have noticed from the loading screens we are grateful to all our custom content providers. In-game Imps will occasionally shout praises to them!


Praise be to,
BouncyRock Entertainment: Johnny Ree and the guys over at BouncyRock have done a great job with the custom monster creations they have released.
Warehouse mod, by Wyrin.
Elvered's 'Wolfguard Pass' is used as South Woods of Sharp Teeth.
Sebastien Raymond: The Iron Throne interior, Temple of Imater, Sorcerous Sundries, Temple of Helm and the Temple of Tymora.
Duster47 for a tremendous amount of content and server update work. Including with the appearance changer, and with the GateKeeper system.
Luna and Maecius, for taking care of the server administration as well as a gigantic amount of update work, and forum maintenance.
Karond, BMD and Molag Bal, for their item and creature template contributions!
Rasael, for his work on custom content, spells, feats, classes, the Misty Forest area, and for maintaining the Wiki.
The BGTSCC Community for their excellent roleplay, maturity, and good fun!
The Neverwinter Night's 2 custom content scene, the area builders, and the Game's community - still going strong after more than 7 years!
.... And many other folks!




Regarding a dispute with Kaedrin,
As of sometime late 2012 / beginning 2013 BGTSCC became the unwilling party in a troubled relationship with Kaedrin, author of Kaedrin's PRC. During the week between Christmas and New Year 2012 the author licensed his new works and forbade us to use those. He moreover insisted that we not use content he had previously made freely available on various sites. At that time much effort had already been spent incorporating those freely released works. Because of that the server's staff refused to comply, something which following the letter and spirit of copyright law we were entitled to decide.
This has unfortunately led to a series of internet tantrums on his website, and various forums. The author also continues to demand we not use the works he has freely published. The details of this can be found here: See the posts on NWN2 DB
In line with our previous statements on the matter we continue to wish Kaedrin well and hold no malice against him. We are grateful for the contributions he has made to the NWN2 community. If you have any questions or problems relating to content that is on our server we ask that you direct you questions to the staff and not bother Kaedrin with them. He cannot be assumed to be aware BGTSCC's many custom changes, nor would he presumably appreciate being asked.